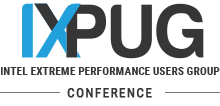 IXPUG Annual Fall Conference 2018
---
Registration: please register by the September 11, 2018 deadline
Event Description: This IXPUG conference f

ocused on all aspects of employing, adopting many-core processing technologies and techniques for optimal application execution. Including topics that cover system hardware beyond the processor (memory, interconnect, etc.), software tools, programming models, new workloads (visualization, data analytics, machine learning, etc.) and more. Providing an interactive experience focused on key topics associated with high-performance computing, artificial intelligence, data analytics, cloud computing, and more. Co-organized

by Sandia National Lab and Los Alamos National Lab and held at the Intel Corporation (Hillsboro, Oregon) facility. The conference activities including a keynote, plenary, 30 minute technical lectures, 10-15 minute Lightning Talks, Posters and Tutorials. Attendees will experience an open forum, where Intel and Industry experts will share best practices and techniques used for maximizing software efficiency using Intel architecture with fellow application programmers, software developers, scientist, researchers, academic, students, data analyst, etc. The challenges surrounding application performance and scalability will be covered across all levels, including application tuning on large HPC systems.
Travel Information:
Meals: Coming soon.
Visa Requirements: Please contact

This email address is being protected from spambots. You need JavaScript enabled to view it.

for visa inquiries.
Transportation and Parking: Coming soon.

Lodging:

Nearby hotel suggestions are listed below.
| | |
| --- | --- |
| Hotel | Address |
| Larkspur Landing Hillsboro | 3133 NE Shute Rd, Hillsboro, OR 97124; (503) 681-2121 |
| Residence Inn by Marriott Portland Hillsboro/Brookwood | 3160 NE Brookwood Pkwy, Hillsboro, OR 97124; (503) 844-7777 |
| Holiday Inn Express Portland West/Hillsboro | 5900 NE Ray Cir, Hillsboro, OR 97124; (503) 844-9696 |
| Comfort Inn | 3500 NE Cornell Rd, Hillsboro, OR 97124; (503) 648-3500 |
| TownePlace Suites by Marriott Portland Hillsboro | 6550 NE Brighton St, Hillsboro, OR 97124; (503) 268-6000 |
| The Orenco, Boutique Hotel | 1457 NE Orenco Station Pkwy, Hillsboro, OR 97124; (888) 503-7094 |
| Embassy Suites by Hilton Portland Hillsboro, Oregon | 20001 NW Tanasbourne Dr, Hillsboro, OR 97124; (503) 718-0007 |
| Courtyard by Marriott Portland Hillsboro | 3050 NW Stucki Pl, Hillsboro, OR 97124; (503) 690-1800 |
| SpringHill Suites by Marriott Portland Hillsboro | 7351 NE Butler St, Hillsboro, OR 97124; (503) 547-0202 |
| Holiday Inn Hillsboro | 2575 NW Aloclek Dr, Hillsboro, OR 97124; (503) 640-1745 |
| Residence Inn by Marriott Portland Hillsboro | 18855 NW Tanasbourne Dr, Hillsboro, OR 97124; (503) 531-3200 |
| Extended Stay America - Portland - Hillsboro | 19311 NW Cornell Rd, Hillsboro, OR 97124; (503) 439-0706 |
| Extended Stay America - Portland - Beaverton/Hillsboro - Eider Ct | 18665 NW Eider Ct, Beaverton, OR 97006; (503) 439-1515 |
| Aloft Hillsboro-Beaverton | 1705 NW Amberglen Ct, Hillsboro, OR 97006; (503) 277-1900 |
---
Techniques: Algorithms & Methods, Compiler Flags, Software Environment & Tools, Libraries, Parallel- Programming (Communications, Thread & Process Management Experience, All), Multi- node, Memory, Vectorization
Products: Intel® Xeon Phi™ Co/Processor, Intel® Xeon Processor Family, Intel® Omni Path Fabric, Intel® FPGA, Intel® SSDs/NVMe Solutions, Intel® Lustre Software, Visualization Technology, Intel® SW Tools
Domain: Artificial Intelligence (Machine Learning/Deep Learning), Astrophysics, Bioinformatics, Chemistry, Climate & Weather, Computational Fluid Dynamics, Data Analytics, Energy/Oil & Gas, Financial Services, Geophysics, Libraries & Tools, Life Sciences, Material Science, Medical imaging, Molecular Dynamics, Nanotechnology, Physics, Visualization