IXPUG Annual Spring Conference 2017
---
---
Registration is now closed. Late registrations may still be accepted - for inquiries please contact Juha Jaykka <This email address is being protected from spambots. You need JavaScript enabled to view it.> directly
Meeting Survey: If you attended the Spring Meeting, please complete the survey so we know how we did! Fill it out here.
Video from these sessions will be streamed to our YouTube Page.
Meeting Location: The conference venue is the Centre for Mathematical Sciences (red pin) and the dinner venue is Trinity Hall (green pin). See the interactive map on the Cambridge website.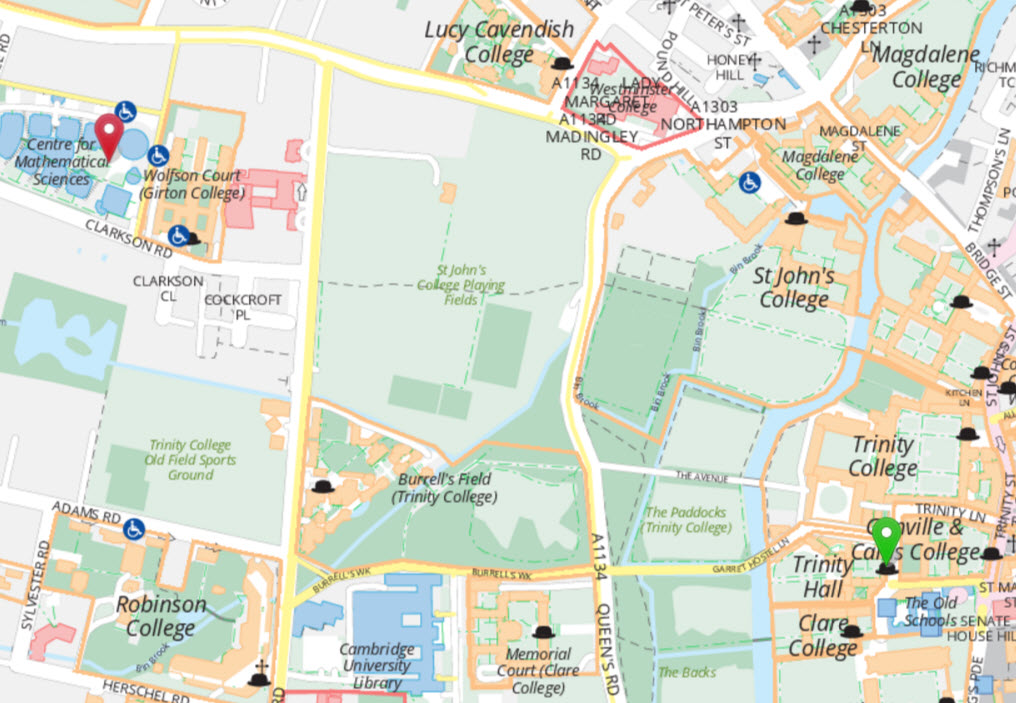 Day 1: Monday, April 10, 2017 - Intel Parallel Computing Center Members Only
Day 2: Tuesday, April 11, 2017 - IXPUG Annual Spring Conference
Day 3: Wednesday, April 12 2017 - IXPUG Annual Spring Conference
Day 4: Thursday April 13, 2017: IXPUG Annual Spring Conference
Travel Information:
Visa Requirements: Please contact

This email address is being protected from spambots. You need JavaScript enabled to view it.

at

University

of Cambridge for visa inquiries

.

Transportation, Parking, etc.:

Information on how to get to the venue can be found here

.

Lodging

:

Hotel recommendations listed below.

A useful site for finding accommodation here
Hotel

Hotel Address

Arundel House Hotel

Chesterton Road, Cambridge CB4 3AN

Phone: +44 (0) 1223 367 701

Varsity Hotel

Thompson's Lane (off Bridge Street) Cambridge CB5 8AQ

Phone: +44 (0) 1223 30 60 30

Hotel Felix

Whitehouse Lane, Huntingdon Road,Cambridge, CB3 0LX

Phone: +44 01223 277977

Hilton (City Centre)

Downing Street, Cambridge, CB2 3DT, United Kingdom

Phone: +44 1223 464491

Hilton (By the river)

Granta Place Mill Lane, Cambridge,CB2 1RT, United Kingdom

Phone: +44 1223 259988
Organizing Committee and Contacts
Organizing Committee:
Juha Jaykka,

This email address is being protected from spambots. You need JavaScript enabled to view it.

, Department of Applied Mathematics and Theoretical Physics, University of Cambridge, UK

Estela Suarez,

This email address is being protected from spambots. You need JavaScript enabled to view it.

, Forschungszentrum Juelich / Juelich Supercomputing Centre, Germany

Thomas Steinke,

This email address is being protected from spambots. You need JavaScript enabled to view it.

, Zuse Institute Berlin, Germany

David Martin,

This email address is being protected from spambots. You need JavaScript enabled to view it.

, Argonne National Laboratory, US

John Pennycook,

This email address is being protected from spambots. You need JavaScript enabled to view it.

, Intel Corporation, United States

Richard Gerber,

This email address is being protected from spambots. You need JavaScript enabled to view it.

,

National Energy Research Scientific Computing Center, Lawrence Berkeley National Lab

Michael Lysaght,

This email address is being protected from spambots. You need JavaScript enabled to view it.

, Irish Centre for High End Computing (ICHEC), Ireland
Local Organizer:
James Parke,

This email address is being protected from spambots. You need JavaScript enabled to view it.

, University of Cambridge